Your fast, simple, expert-designed route to privacy compliance
Get your data privacy compliance sorted – including GDPR and CCPA – with our award-winning solution. It shows you exactly how to do it and brings everyone on board. And, with all your documentation in one place, you can demonstrate your compliance at any time.
More than 10,000 employees educated on how to protect personal information within their organisations.
In excess of 400 client Privacy Champions provided with a clearly structured privacy management programme.
Over 100 client hub owners demonstrating their organisations' compliance in their own customisable hub.
Put a rigorous privacy process in place
Everything related to your data privacy compliance is in one place in a cost-effective, easy-to-use, automated platform formulated by experts.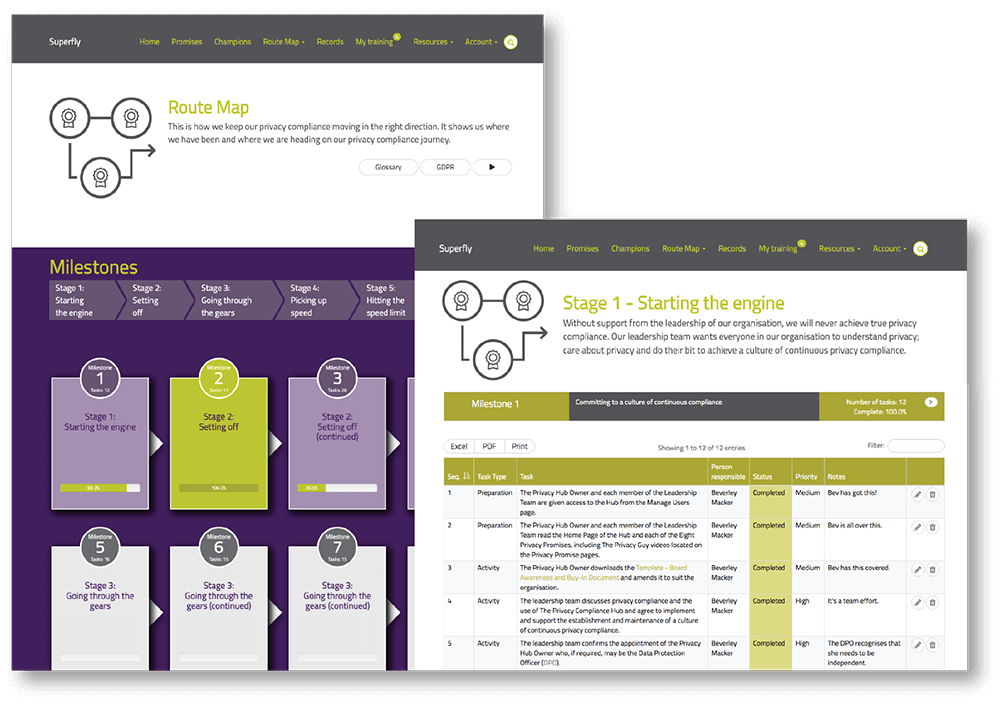 Demonstrate compliance at any time
Enjoy the peace of mind of knowing, in the event of an audit, all the privacy documentation showing your compliance is only a click away in the hub.
Educate and guide your organisation
With our Route Map spread the responsibility for privacy compliance across your organisation. Everyone can see what they need to do and it guides them every step of the way.
Reduce business risk and avoid litigation
Our comprehensive privacy compliance solution mitigates the risk of litigation and damage to your reputation.
We're trusted by...
One of the UK's three primary free-to-air TV networks, based in London and Leeds, C4 has over 900 employees.
The UK's first new clearing bank in over 250 years and the first to offer multi-currency bank accounts via API technology. Based in London, it now has over 300 employees.
Based in Wigan and London, and with over 100 employees, UK Tote has been at the heart of British horseracing for over 90 years.
Privacy experts with proven experience
Our team is led by Nigel Jones and Karima Noren. Nigel and Karima were the first two Google lawyers outside California. Nigel set up Google's legal operations in Europe, the Middle East and Africa. They're both digital privacy experts with a proven track record of protecting the reputations of leading organisations and know what it's like to be run off your feet in a busy, fast-moving business while staying on top of legal risk.
Why choose the Privacy Compliance Hub?
Unlike other expensive solutions such as paying for consultants or lawyers or buying a suite of software products and then employing someone to use them, we're the only data privacy compliance company with a SaaS solution that shows you how to establish and maintain privacy compliance, gives you everything you need to do it and the ability to show you've done it.
Speak to our team or book a demo now
We'll be in touch as soon as we can. If you would just like a chat to find out more, that's absolutely fine. Alternatively, if you want to see what the PCH can do for your organisation we can take you through an online demo. It's all done remotely through screen sharing and takes around 30 minutes.
Frequently asked questions
Privacy Compliance Hub awards...