Wave goodbye to your privacy pain
A privacy management programme with culture at its heart which shows you how to get data privacy sorted (including GDPR and CCPA). We give you everything you need and enable you to demonstrate your compliance forever, all in one place.
Try our free GDPR audit
"...for businesses keen to put better privacy at the heart of everything they do" Stephen Collins - Data Protection Officer, ClearBank
Your solution for data privacy compliance
We'll save you time, money and stress.
How it works
We're trusted by...
Achieving continuous privacy compliance
Data privacy compliance matters. It affects your organisation's reputation, risks and ability to close deals.
The only way to achieve privacy compliance is to build and maintain a culture of continuous privacy compliance. Engage your whole organisation over time and you'll change your culture. 90% of data breaches are caused by staff error and that is a cultural issue you need to fix, now.
How we do that for you...
We show you how to build a people led privacy management programme
Our easy-to-use Route Map, templates and tips will keep you and your staff one step ahead of the regulations and your stakeholders on side.
We give you one home for all your privacy needs
Forget costly, complex solutions – our hub delivers a simple-to-use, automated privacy programme formulated by experts.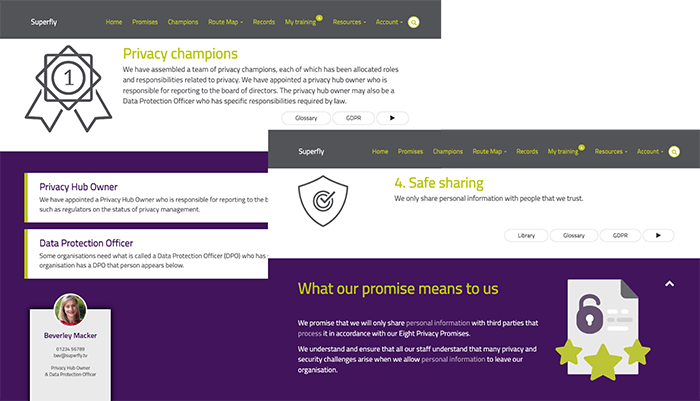 We make all your staff understand and care about privacy
People make mistakes! We provide a suite of online training to help them understand and care about data privacy. All backed up by the reassurance of powerful reporting tools.
We enable you to delegate data privacy
Proper data compliance needs all your staff on board so we equip your staff with the knowledge of what to do and why. Choose your team of privacy champions and the hub empowers them to safeguard your organisation's privacy every day.
What our clients say...
Peak privacy performance
"We explored a range of options to help us in our compliance journey and quickly found the Privacy Compliance Hub to be the best."
Tom Williams
Head of marketing at Peak Labs
See more
An invaluable framework
"We've found the Privacy Compliance Hub invaluable as a framework for embedding privacy compliance across our organisation… the data champions we appointed across the business have helped us ensure a high level of engagement in data issues."
Rebecca Miller
Deputy controller of corporate legal & governance and data protection officer at Channel 4
Kudos from CK
"The Privacy Compliance Hub is essential for Credit Kudos achieving and maintaining GDPR compliance."
Kelly Read-Parish
Head of operations at Credit Kudos
See more
Making data privacy simple
Your hub provides a clear, user-friendly and engaging way to spread privacy compliance across your organisation. This is how it works…
• You appoint a hub owner for your hub.
• The hub owner builds a team of privacy champions to support them.
• The team follows an automated Route Map which shows them what to do to establish and maintain a privacy compliance programme with culture at its heart.
• Your privacy compliance journey is recorded within your hub.
• And you keep going.
You get…
• A comprehensive privacy compliance programme
• A suite of interactive staff training videos
• An automated Route Map
• Practical tips, templates & know how
• Records and reporting tools
All in one place.
Frequently asked questions
Privacy Compliance Hub awards...