The advertising and marketing industry has come in for lots of criticism about sharp privacy practice. Many companies try to duck their responsibilities, but those that buck the trend by prioritising privacy are already reaping the rewards. Just look at how Apple now proudly puts their PR into GDPR. With the Privacy Compliance Hub onboard, your company can assuredly demonstrate compliance at every stage of your development and close deals with confidence.
Let us show you how
We're trusted by the advertising industry...
A fast track to compliance
Establish compliant operations and data protection processes in no time thanks to an automated, step-by-step Route Map.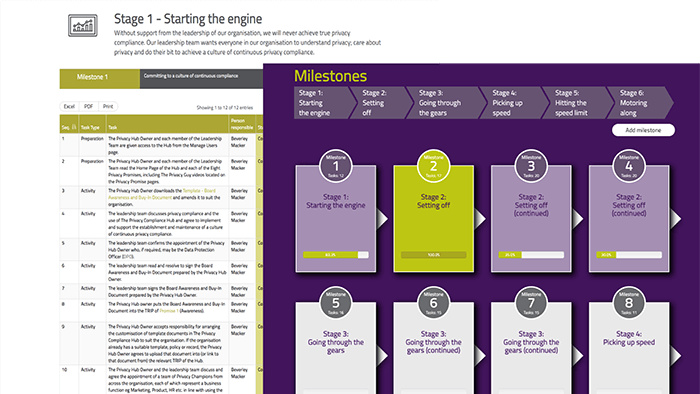 Something to shout about
The hub easily demonstrates to all of your stakeholders and other interested parties that a worrying risk is being dealt with effectively.
Everything in one place
The hub provides a comprehensive compliance programme with interactive training, the Route Map and templates all in one place.
Scalability is baked in
The hub makes it easy to see who's supposed to be doing what and when and means you can stay compliant as your business scales and changes.
What our clients say...
An invaluable framework
"We've found the Privacy Compliance Hub invaluable as a framework for embedding privacy compliance across our organisation… the data champions we appointed across the business have helped us ensure a high level of engagement in data issues."
Rebecca Miller
Deputy controller of corporate legal & governance and data protection officer at Channel 4
Speak to our team or book a demo now
We'll be in touch as soon as we can. If you would just like a chat to find out more, that's absolutely fine. Alternatively, if you want to see what the PCH can do for your organisation we can take you through an online demo. It's all done remotely through screen sharing and takes around 30 minutes.